Massachusetts Dog is First In State to Be Included in Domestic Violence Restraining Order



First animal to be included in restraining order under the new MA law. We are sorry the family needed to use this but happy it was in place to protect them all. We hope they will be reunited with their dog soon.

- Read Article



Bill to include animals in restraining orders passes in Massachusetts



GREAT NEWS! The bill to include animals in restraining orders was passed by the MA legislature and signed by Governor Patrick in Aug, 2012.

This bill focuses on much needed updates to the animal control laws as well as the ability to include animals in protective orders.

Congratulations to everyone who helped to pass this important legislation.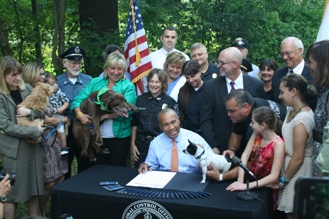 Massachusetts Governor Deval Patrick Signs S. 2192!


- Info on the bill from MSPCA
- Lots of great photos from the event at Dog Breath Photography.


---
NEWS - HAVEN and Friends



HAVEN speaks to SafePlan Advocates
HAVEN is proud to have been invited to present about the connection between animal cruelty and domestic violence at a statewide training of MA Office of Victim Assistance (MOVA) SafePlan Advocates...
May 8, 2013 Read Full Story

SAD NEWS
HAVEN founder Lorna Grande was introduced to the police aspect of the connection between animal cruelty and interpersonal violence by two men. Paul Johnston and Tom Flanagan. Both over 30 year veterans of the Boston Police Dept. Paul passed away this weekend and we are deeply saddened. His soft spoken, kind interactions with people will always be remembered.

Thanks you, Paul for all you did for animals, human and non human, you will be missed. Our thoughts are with his family and friends.

November 27, 2012 Read article

Berkshire County Asst District Attorney Kellp Kemp Received Award
We are proud to announce that HAVEN partner Berkshire County Asst District Attorney Kellp Kemp is this years recipient of the Mass Veterinary Medical Association's Merit Award. Kelly is being honored for her tough prosecution of animal cruelty cases in Berkshire County and her efforts through HAVEN to educate other prosecutors in MA. Kelly is the Chief Prosecutor in the DAs office and an adjunct faculty member in the Criminal Justice Dept at Berkshire Community College. She is featured in this month's Animal Life Publication, pick up a copy!

Congratulations to Kelly, everyone at HAVEN is very proud!! See you at the Awards dinner!
March 2012 Read Press Release - PDF

Amazing Grace - In her new career, this retired judge advances animal and child welfare
"...After this eureka moment, Grace sought out Grande as a mentor during the month-long externship required for the degree in animals and public policy..."
May 24, 2011 Read Full Story

Haven welcomes student extern from Tufts Center for Animals in Public Policy Master's program
"...Receiving the offer of free labor from a hard working, motivated student is always good news, however this news was different because the student is a retired juvenile court judge!! The Honorable Chief Justice (ret) Martha Grace has been working with HAVEN for the month of January..."
January 2011 Read Full Story

DA's training links domestic violence, animal abuse
"...Dr. Lorna Grande, coordinator of the Berkshire Country-based Human/Animal Violence Education Network, said her coalition had found in 88 percent of the child abuse cases they handled, pets in the home were also subject to abuse or neglect..."
June 18, 2010 Read Story - Boston.com